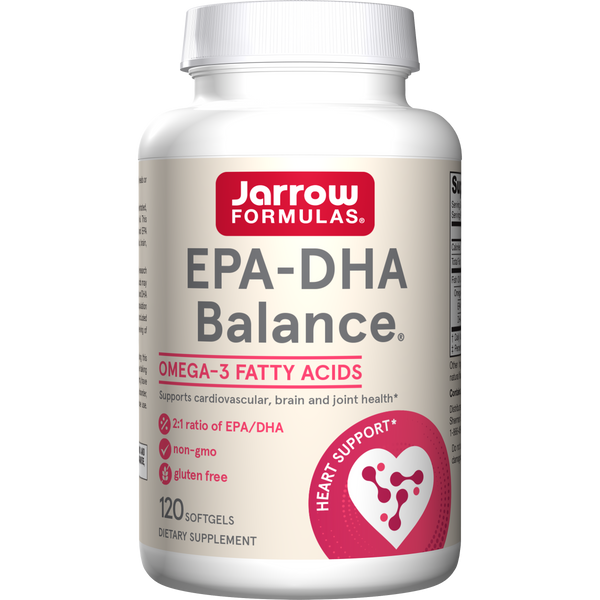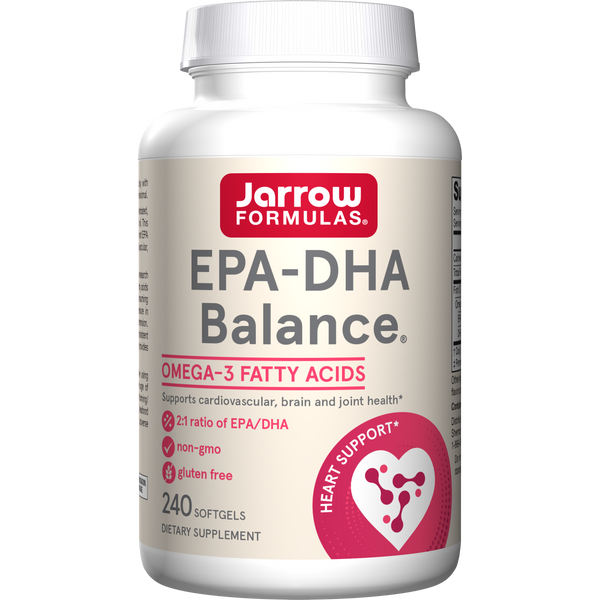 600 mg Omega-3 Per Softgel / 120-240 Softgels / 2-4 Months Supply
EPA-DHA Balance® provides ultra-purified, highly concentrated, and molecularly distilled omega-3 fatty acids from fish oil. This unique blend provides the synergistic benefits of DHA and EPA omega-3 fatty acids in a 2:1 ratio to support cardiovascular, brain, and joint health.*
Qualified Health Claim: Supportive but not conclusive research shows that consumption of EPA and DHA omega-3 fatty acids may reduce the risk of coronary heart disease. Consuming EPA and DHA combined may help lower blood pressure in the general population and reduce the risk of hypertension. However, FDA has concluded that the evidence is inconsistent and inconclusive. One serving of EPA-DHA Balance® provides 1.2 grams of EPA and DHA.
Serving Size: 2 Softgels
Servings Per Container: 60 or 120
EPA (Eicosapentaenoic Acid)
DHA (Docosahexaenoic Acid)
† Daily Value (DV) not established.
‡ Percent Daily Values are based on a 2,000 calorie diet.

Other Ingredients: Softgel (gelatin, glycerin, water), natural flavor and mixed tocopherols (antioxidant).

Contains: Fish (anchovy and sardine).

Store in a cool, dry place.
About EPA-DHA Balance®

Omega-3 Fatty Acids For Supporting Cardiovascular, Brain, and Joint Health*
EPA and DHA in a 2:1 Ratio
Non-GMO, Gluten Free
Suggested Use

Adults take 2 softgels once a day with meals or as directed by your qualified healthcare professional.

WARNING: Consult a healthcare professional before using this product if you are pregnant, nursing, under the age of 18, are taking medication (especially if taking blood thinning/anticoagulants), have a medical condition (especially seafood allergies, bleeding disorder, or facing surgery); if adverse reactions occur, discontinue use.

Keep out of the reach of children.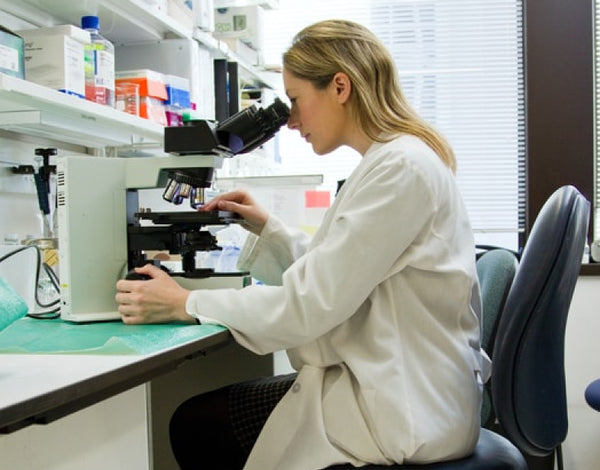 Superior Science
Our staff of scientists leverage expertise from researchers and institutions worldwide who study products and ingredients, and how they work with your body. By supporting scientific research and funding studies, Jarrow Formulas® maintains superior science as the guiding principle in all it does.
Smarter Formulas
Our formulations are carefully crafted and informed by strong scientific research. Jarrow Formulas' products therefore have the potential to support and promote optimal health.
Quality Ingredients
Our customers can be assured of both purity and potency in every Jarrow Formulas product. We evaluate the purity, strength and composition of all ingredients and only work with raw material suppliers that follow the same Current Good Manufacturing Practices (cGMP) we do.
Our Science
Other Products You May Like: