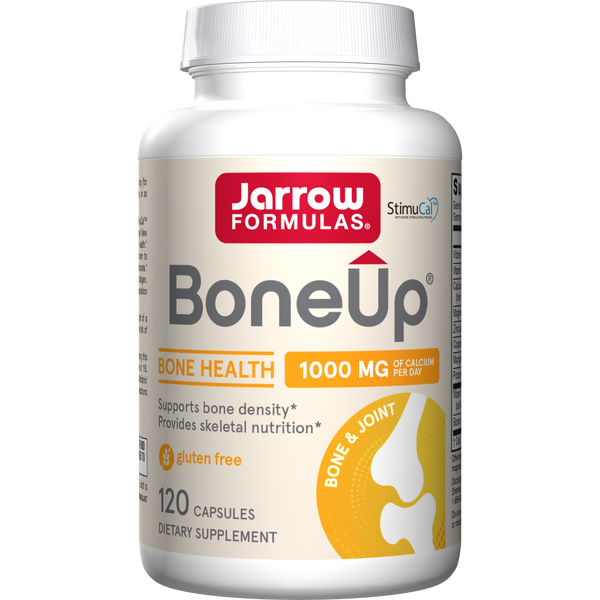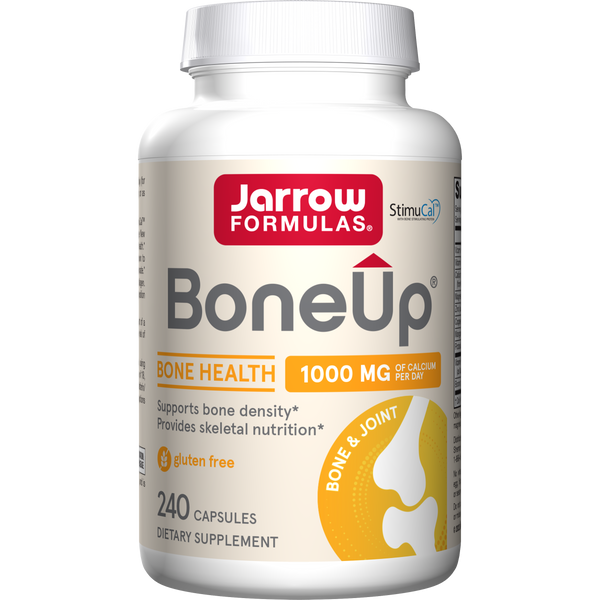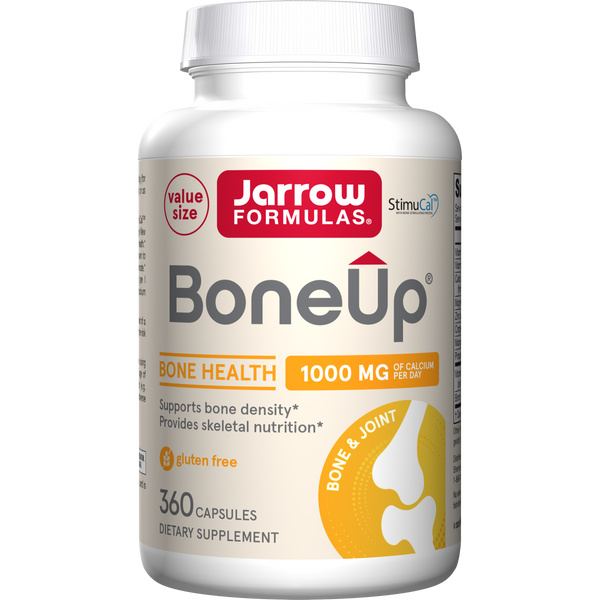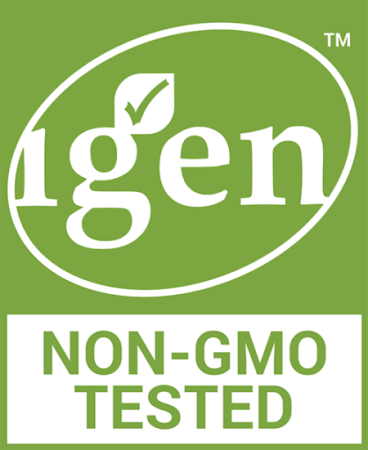 120-360 Capsules / 0.5-2 Months Supply
BoneUp® is a comprehensive formula that provides StimuCal™ MicroCrystalline HydroxyApatite (MCHA) from free-range New Zealand calves and micronutrients to support bone health.* StimuCal™ is a naturally derived source of calcium shown to support bone mineral density better than calcium carbonate.* StimuCal™ also provides bone proteins, including type I collagen. Vitamins D3 and K2 work together to support calcium deposition into bones.*
HEALTH CLAIM: Adequate calcium and vitamin D as part of a healthful diet, along with physical activity, may reduce the risk of osteoporosis later in life.
Serving Size: 2 Capsules
Servings Per Container: 60/120/180
Vitamin C (as Calcium Ascorbate)
Vitamin D (as D3 Cholecalciferol)
Calcium (Elemental) (from Microcrystalline Hydroxyapatite)
Magnesium (as Magnesium Oxide)
Zinc (as Zinc L-Methionine Sulfate)
Copper (as Copper Gluconate)
Manganese (as Manganese Citrate)
Potassium (as Potassium Citrate)
Vitamin K2 (as Naturally Derived MK-7 [Menaquinone-7])
† Daily Value (DV) not established.
Other Ingredients: Microcrystalline cellulose, capsule (bovine gelatin), magnesium stearate (vegetable source) and silicon dioxide.

No wheat, gluten, soybeans, dairy, egg, fish/shellfish, peanuts/tree nuts or sesame.

StimuCal™ is a registered trademark of PharmaZen Ltd., and is patent pending.

Store in a cool, dry place.
About BoneUp®

Comprehensive Micronutrient Support for Bone Health*
Supports Bone Density*
Provides Skeletal Nutrition*
1000 mg of Calcium Per Day
Non-GMO, Gluten Free
Suggested Use

Adults take 2 capsules 3 times a day (for a total of 6) with meals to facilitate maximum absorption, or as directed by your qualified healthcare professional.

WARNING: Consult a healthcare professional before using this product if you are pregnant, nursing, under the age of 18, are taking medication (especially anticoagulants [e.g. Warfarin/
Coumadin]) or have a medical condition; if adverse reactions occur, discontinue use.

KEEP OUT OF THE REACH OF CHILDREN.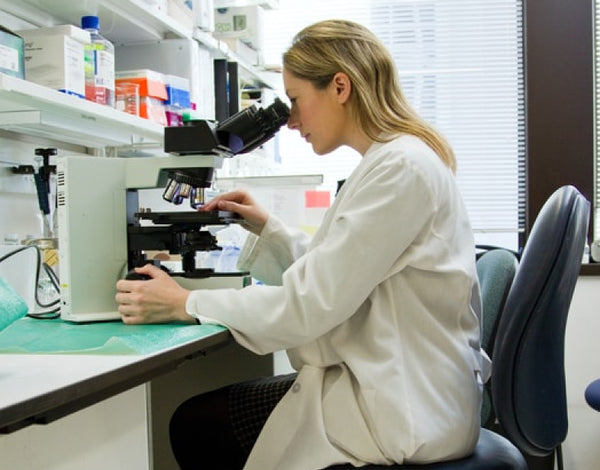 Superior Science
Our staff of scientists leverage expertise from researchers and institutions worldwide who study products and ingredients, and how they work with your body. By supporting scientific research and funding studies, Jarrow Formulas® maintains superior science as the guiding principle in all it does.
Smarter Formulas
Our formulations are carefully crafted and informed by strong scientific research. Jarrow Formulas' products therefore have the potential to support and promote optimal health.
Quality Ingredients
Our customers can be assured of both purity and potency in every Jarrow Formulas product. We evaluate the purity, strength and composition of all ingredients and only work with raw material suppliers that follow the same Current Good Manufacturing Practices (cGMP) we do.
Our Science
BoneUp Comparison
Comprehensive Bone Support Formula
Suggested Use
2 Capsules per Meal (Total of 6 per Day)
1 Capsule per Meal (Total of 3 per Day)
2 Tablets per Meal (Total of 6 per Day)
2 Tablets per Meal (Total of 6 per Day)
Which One is Right for Me?
I want to supplement my daily calcium intake.
I want the convenience of just 3 capsules per day to supplement my daily calcium intake. Please note: larger capsule size.
Due to my lifestyle and/or lifestage, I want a higher level of calcium to supplement my daily intake.
I have a vegan or vegetarian lifestyle and want to supplement my daily calcium intake.
Source of Calcium
New Zealand
Pasture-Fed Calves
New Zealand
Pasture-Fed Calves
New Zealand
Pasture-Fed Calves
Naturally Occurring Collagen from Bone
Other Products You May Like: