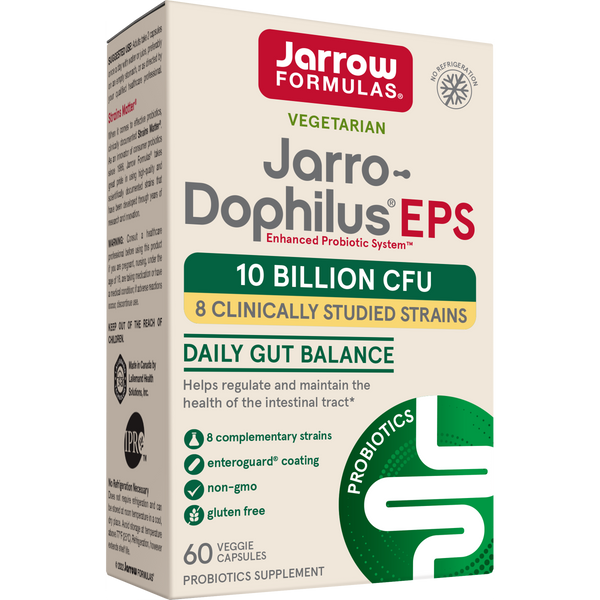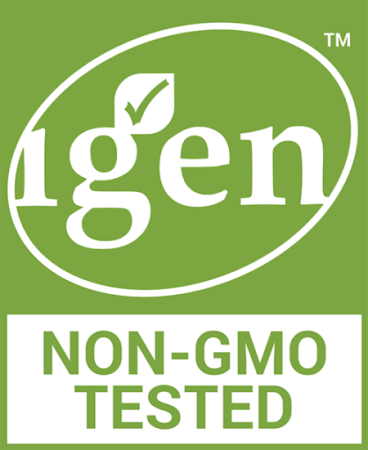 10 Billion CFU / 60-120 Veggie Capsules / 2-4 Months Supply
Jarro-Dophilus® EPS supports the health of the intestinal tract with a balanced mixture of carefully selected probiotic strains for intestinal and immune health.* These strains have been clinically shown to have a positive influence on intestinal and/or immune health.*
Serving Size: 2 Capsules
Servings Per Container: 30 or 60
Proprietary Probiotic Blend
Lacticaseibacillus rhamnosus R0011
Lactobacillus helveticus R0052
Pediococcus acidilactici R1001
Lacticaseibacillus casei R0215
Bifidobacterium longum BB536
Lactiplantibacillus plantarum R1012
Bifidobacterium breve R0070
Lactococcus lactis subsp. lactis R1058
† Daily Value (DV) not established.
Other Ingredients: Potato starch, capsule (hydroxypropylmethylcellulose, water), enteric coating (hypromellose, ethylcellulose, sodium alginate, medium chain triglycerides [modified coconut oil], oleic acid, stearic acid [vegetable source]), magnesium stearate (vegetable source) and ascorbic acid (antioxidant).

Contains: Milk and soy (in trace amounts).

Made in Canada by Lallemand Health Solutions, Inc.
About Jarro-Dophilus® EPS - 10 Billion CFU

Formulated with Eight Clinically Studied Strains of Probiotic Bacteria (10 Billion CFU Per Serving) In An Enhanced Probiotic System™ (EPS)
Helps Regulate And Maintain The Health Of The Intestinal Tract*
Our 8 complementary strains of probiotic bacteria are delivered via proprietary enteric coated capsules (EnteroGuard®) that protect it from stomach acid and delivers the potency of friendly bacteria needed to support a healthy gut.* Jarro-Dophilus® EPS is blister-packed to protect the capsules from moisture and room temperature stable so it does not require refrigeration
Enhanced Probiotic System™ for Intestinal and Immune Health*
Formulated With Strains That Are Stable At Room Temperature (77°F)
EnteroGuard® Coating - Protects Probiotics From Stomach Acid
Blister Packed - Protects Probiotics From Moisture and Oxygen for Superior Stability
Vegetarian, Non-GMO, Gluten Free
When it comes to effective probiotics, clinically documented Strains Matter®. As an innovator of consumer probiotics since 1986, Jarrow Formulas® takes great pride in using high-quality and scientifically documented strains that have been developed through years of research and innovation.
Suggested Use

Adults take 2 capsules once a day with water or juice, preferably on an empty stomach, or as directed by your qualified healthcare professional.

WARNING: Consult a healthcare professional before using this product if you are pregnant, nursing, under the age of 18, are taking medication or have a medical condition; if adverse reactions occur, discontinue use.

Keep out of the reach of children.

No Refrigeration Necessary
Does not require refrigeration and can be stored at room temperature in a cool, dry place. Avoid storage at temperature above 77°F (25°C). Refrigeration, however extends shelf life.

Live Probiotic Guarantee
When kept under recommended storage conditions, Jarrow® Probiotics are formulated to ensure CFU counts are guaranteed within Best Used Before date.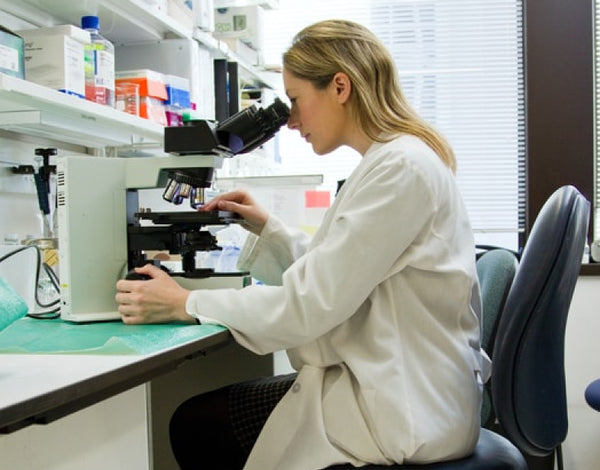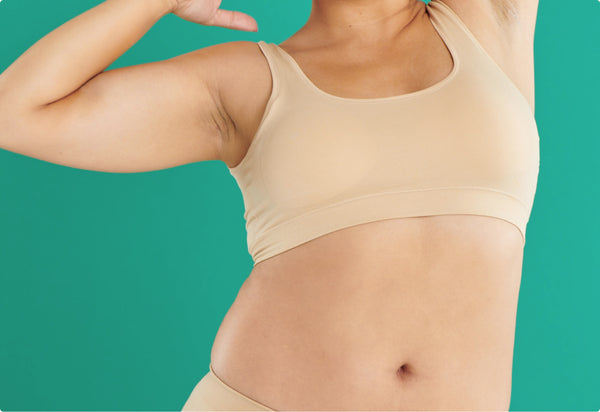 Did you know?
Did you know more CFUs doesn't always mean a better probiotic? It's the types of strains that really matter.
Did you know a potent probiotic doesn't always need the fridge? Superior Science
Our staff of scientists leverage expertise from researchers and institutions worldwide who study products and ingredients, and how they work with your body. By supporting scientific research and funding studies, Jarrow Formulas® maintains superior science as the guiding principle in all it does.
Smarter Formulas
Our formulations are carefully crafted and informed by strong scientific research. Jarrow Formulas' products therefore have the potential to support and promote optimal health.
Quality Ingredients
Our customers can be assured of both purity and potency in every Jarrow Formulas product. We evaluate the purity, strength and composition of all ingredients and only work with raw material suppliers that follow the same Current Good Manufacturing Practices (cGMP) we do.
Our Science
Other Products You May Like: