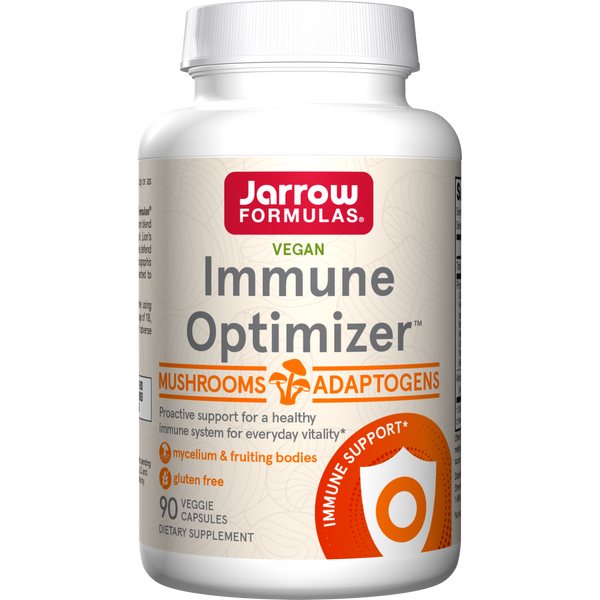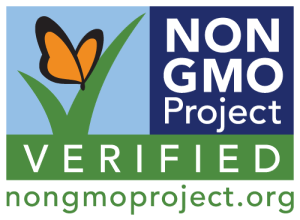 90 Veggie Capsules / 1 Month Supply
Support your body's everyday vitality.
Jarrow Formulas
® 
Immune Optimizer
™
features a wholesome mushroom blend of fruiting bodies and mycelium (Cordyceps, Reishi, Lion's Mane, Shiitake, King Trumpet, and Turkey Tail) to help defend against free radicals.* Combined with AP-BIO
®
Andrographis paniculata
, an adaptogenic botanical clinically researched to support immune system health.*
Serving Size: 3 Capsules
Servings Per Container: 30
Proprietary Blend Cordyceps miltaris (Cordyceps) (Mycelial Biomass and Fruit Body), Ganoderma lucidum (Reishi) (Mycelial Biomass and Fruit Body), Pleurotus eryngii (King Trumpet) (Mycelial Biomass and Fruit Body), Lentinula edodes (Shiitake) (Mycelial Biomass and Fruit Body), Hericium erinaceus (Lion's Mane) (Mycelial Biomass and Fruit Body), and Trametes versicolor (Turkey Tail) (Mycelial Biomass and Fruit Body), (as PeakO2®).
Andrographis Extract (Andrographis paniculata) (Leaf) (AP-Bio®)
† Daily Value (DV) not established.
‡ Percent Daily Value is based on a 2000 calorie diet.
Other Ingredients: Microcrystalline cellulose, capsule (hydroxypropylmethylcellulose), myceliated oats, magnesium stearate (vegetable source) and silicon dioxide.
About Immune Optimizer™

IMMUNE SUPPORT: Support your health with 6 powerful mushrooms combined with AP-BIO® Andrographis paniculata for immune system support.*
CELLULAR SUPPORT: Helps defend against free radicals; L-Ergothioneine is an antioxidant that has been found to have its own cellular transport mechanism.*
AP-BIO® 200 mg Andrographis paniculata supports the immune system and possesses adaptogenic properties.* AP-BIO®, which includes 7 bioactives, is clinically researched and supported for immune system health.*
Beta-glucans are the main beneficial compound in mushrooms that help to support our immune defenses by enhancing immuno-surveillance, increasing the function of the complement system and innate immune cells.*
Suggested Use

Adults take 3 capsules once a day or as directed by your qualified healthcare professional.

WARNING: Consult a healthcare professional before using this product if you are pregnant, nursing, under the age of 18, are taking medication or have a medical condition; if adverse
reactions occur, discontinue use.

KEEP OUT OF THE REACH OF CHILDREN.
STORE IN A COOL, DRY PLACE.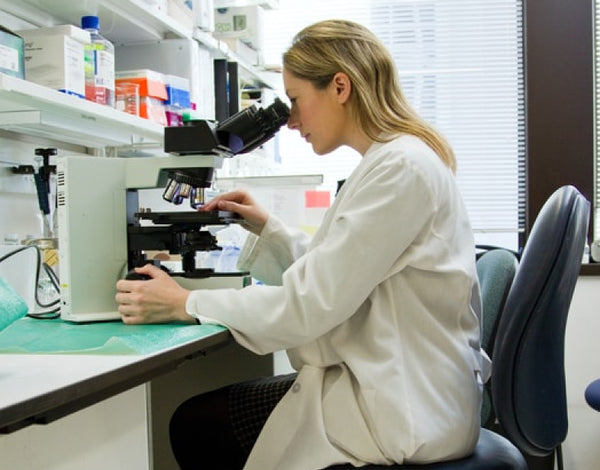 Superior Science
Our staff of scientists leverage expertise from researchers and institutions worldwide who study products and ingredients, and how they work with your body. By supporting scientific research and funding studies, Jarrow Formulas® maintains superior science as the guiding principle in all it does.
Smarter Formulas
Our formulations are carefully crafted and informed by strong scientific research. Jarrow Formulas' products therefore have the potential to support and promote optimal health.
Quality Ingredients
Our customers can be assured of both purity and potency in every Jarrow Formulas product. We evaluate the purity, strength and composition of all ingredients and only work with raw material suppliers that follow the same Current Good Manufacturing Practices (cGMP) we do.
Our Science
Other Products You May Like: