QH-absorb® + PQQ™ combines Ubiquinol, the reduced, active, antioxidant form of Co-Q10 with PQQ, another important antioxidant that promotes the creation of new mitochondria (a process known as mitochondrial biogenesis).* QH and PQQ in a single formula offers dual antioxidant support for mitochondrial health and efficient energy production, the health benefits of which support cardiovascular function.*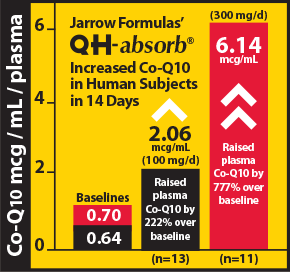 30-60 Softgels / 1-2 Months Supply
SUPPLEMENT FACTS
Supplement Facts
Serving Size 1 Softgel
Amount Per Serving
% DV
Ubiquinol
100 mg
†
PQQ
10 mg
†
(Pyrroloquinoline Quinone Disodium Salt)
† Daily Value (DV) not established.
About QH-absorb® + PQQ™
Dual Antioxidant Support for Mitochondrial Biogenesis, Energy Production, and Cardiovascular Function*
Suggested Usage
Take 1 softgel once or twice per day with a meal or as directed by your qualified healthcare professional.

NOTE: Consult a healthcare professional before using this product if you are trying to conceive, pregnant, or lactating, under the age of 18, or have a medical condition; if adverse reactions occur, discontinue use.

Keep out of reach of children.
Superior Science
Our scientists leverage expertise from renowned researchers in institutions worldwide who study ingredients and products and how they work with your body. Jarrow Formulas maintains superior science as the guiding principle in all it does.
Smarter Formulas
Our formulations are carefully crafted to ensure you get the biological value of each and every vitamin, mineral and supplement. Informed by strong scientific research, Jarrow Formulas' products therefore have the potential to support and promote optimal health.
Quality Ingredients
Our customers can be assured of both purity and potency in every Jarrow Formulas product. We evaluate the purity, strength and composition of all ingredients and only work with raw material suppliers that follow the same Current Good Manufacturing Practices (cGMP) we do.
Our Science
QH-absorb® + PQQ™ pairs well with: