Jarro-Dophilus® Digest Sure
Promotes Digestion and Nutrient Absorption*
Jarro-Dophilus® Digest Sure combines 5 clinically documented probiotic strains with digestive enzymes to promote digestion and nutrient absorption.*
♦There are clinical studies on all functional types of enzymes (amylase, protease, lipase, alpha galactosidase, lactase and peptidase).*
Dual Action with Bilayer Tablets
The 5 probiotic strains in Jarro-Dophilus® Digest Sure are microencapsulated for enhanced survival within the stomach and intestinal tract. Probiotics are separated from the enzymes in a bilayer tablet format to ensure optimal potency at time of consumption.*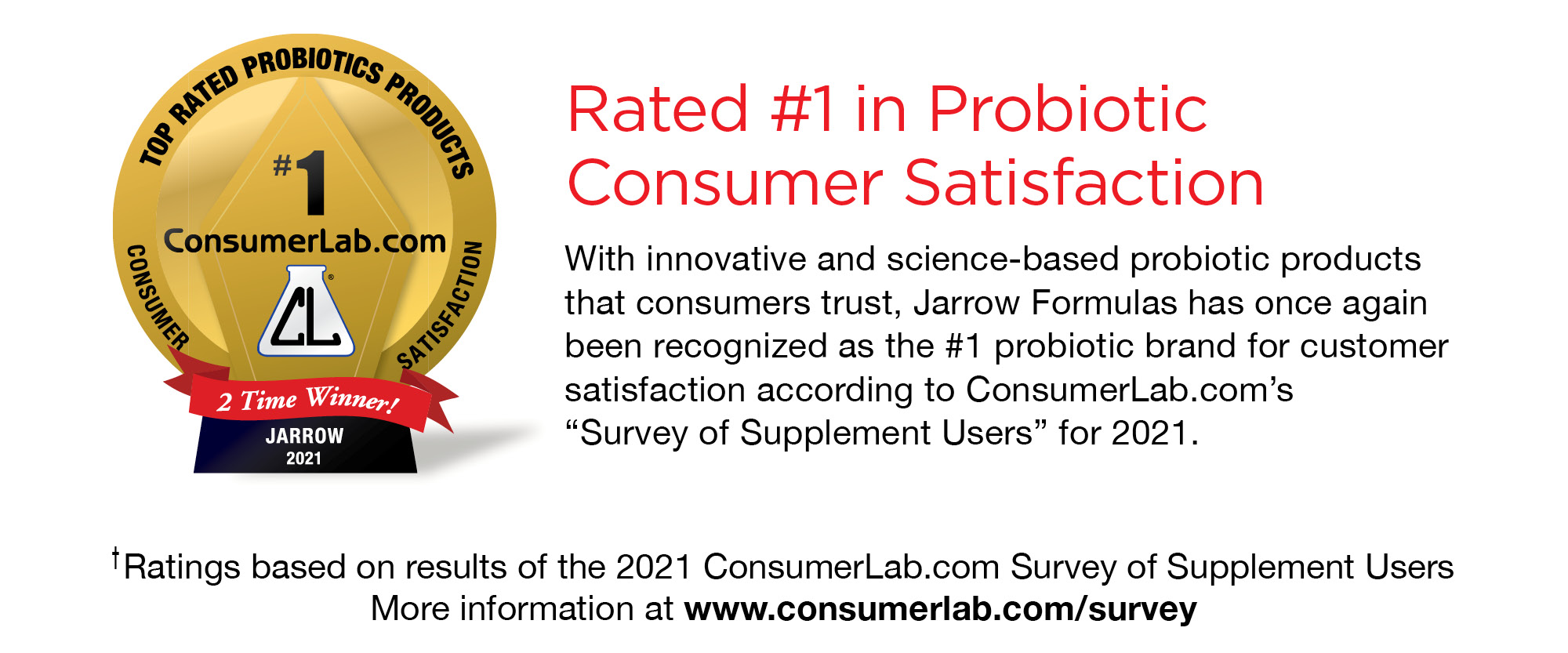 5 Billion CFU / 30 Tablets / 1 Month Supply
SUPPLEMENT FACTS
Supplement Facts
Serving Size 1 Tablet
Amount Per Serving
% DV
Proprietary Probiotic Blend
50 mg (5 Billion CFU)
†
Bifidobacterium animalis subsp. lactis BS-01 †
Bifidobacterium breve BR-03 †
Lactobacillus acidophilus LA-02 †
Lactiplantibacillus plantarum LP-01 †
Lacticaseibacillus rhamnosus LR-04 †
Vegetarian Enzyme Blend
188 mg
†
Amylase
8,000 DU
†
Protease 4.5 ‡
20,000 HUT
†
Protease 3.0 ‡
20 SAPU
†
Lipase
700 FIP
†
Alpha Galactosidase
150 GalU
†
Lactase
1,000 ALU
†
Peptidase
2,500 HUT
†
Protease 6.0 ‡
2,500 HUT
†
† Daily Value (DV) not established.
‡ Optimal pH.
About Jarro-Dophilus® Digest Sure
Jarro-Dophilus® Digest Sure combines 5 clinically documented probiotic strains with digestive enzymes to promote digestion and nutrient absorption in just one daily tablet.* It's the most convenient way to protect your health.*
Promotes Digestion and Nutrient Absorption*
2X Action!
Clinically Documented Microencapsulated Probiotic Strains
Clinically Documented Digestive Enzymes
Just One Tablet per Day
Suggested Usage
Take 1 tablet, during or shortly after a meal, or as directed by your qualified healthcare professional.

NOTE: Consult a healthcare professional before using this product if you are trying to conceive, pregnant, or lactating, under the age of 18, or have a medical condition; if adverse reactions occur, discontinue use.

NO REFRIGERATION NECESSARY
Does not require refrigeration. Avoid storage temperatures above 77°F and store in cool, dry place.

Live Probiotic Guarantee
When kept under recommended storage conditions, Jarrow® Probiotics are formulated to ensure CFU counts are guaranteed within Best Used Before date.

Keep out of reach of children.
Did you know?
Did you know more CFUs doesn't always mean a better probiotic? It's the types of strains that really matter.
Did you know a potent probiotic doesn't always need the fridge?
Superior Science
Our scientists leverage expertise from renowned researchers in institutions worldwide who study ingredients and products and how they work with your body. Jarrow Formulas maintains superior science as the guiding principle in all it does.
Smarter Formulas
Our formulations are carefully crafted to ensure you get the biological value of each and every vitamin, mineral and supplement. Informed by strong scientific research, Jarrow Formulas' products therefore have the potential to support and promote optimal health.
Quality Ingredients
Our customers can be assured of both purity and potency in every Jarrow Formulas product. We evaluate the purity, strength and composition of all ingredients and only work with raw material suppliers that follow the same Current Good Manufacturing Practices (cGMP) we do.
Our Science
Jarro-Dophilus® Digest Sure pairs well with: