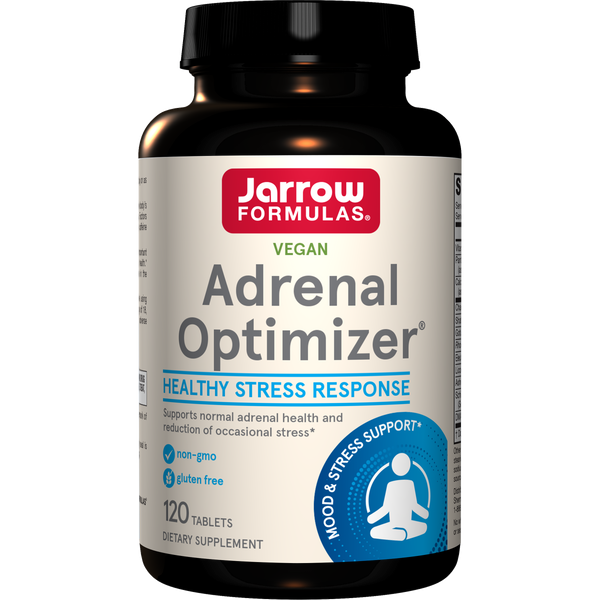 120 Tablets / 2 Months Supply
The adrenal glands produce hormones that underlie the body's mechanisms for coping with physical and mental stress. Factors such as overtraining in athletics and over-reliance on caffeine and other stimulants may tax the adrenals.
Jarrow Formulas® Adrenal Optimizer® combines important nutrients and nutraceuticals that support adrenal health.* Vitamin C, DMAE and pantothenic acid participate in the synthesis and release of adrenal hormones.*
Serving Size: 2 Tablets
Servings Per Container: 60
Vitamin C (as Calcium Ascorbate)
Pantothenic Acid (as Calcium-D-Pantothenate)
Calcium (as Calcium Phosphate/D-Pantothenate/Ascorbate)
Chamomile Flower Complex (Matricaria recutita)
Shatavari Root Complex (Asparagus racemosus)
Gotu Kola (Leaf) (Centella asiatica)
Rhodiola Rosea Root Extract
Eleuthero Root Extract (Eleutherococcus senticosus)
Licorice Root Extract (Glycyrrhiza glabra)
Ashwagandha Root Extract (Withania somnifera)
Schizandra Extract (Fruit &amp
DMAE (from 2-Dimethylaminoethanol Bitartrate)
† Daily Value (DV) not established.
Other Ingredients: Microcrystalline cellulose, calcium phosphate, stearic acid (vegetable source), maltodextrin, croscarmellose sodium, dextrin, silicon dioxide, magnesium stearate (vegetable source) and coating (hydroxypropylmethylcellulose, glycerin).

No wheat, gluten, soybeans, dairy, egg, fish/shellfish, peanuts/tree nuts or sesame.

KSM66® is a registered trademark of Ixoreal Biomed Inc.

KEEP OUT OF THE REACH OF CHILDREN.
STORE IN A COOL, DRY PLACE.
About Adrenal Optimizer®

Combines Important Nutrients and Nutraceuticals to Support Adrenal Health*
Supports Adrenal Renewal* & Stress Reduction*
Adrenal Support Tablets
11 Ingredients Supporting Adrenal Health*
100 mg Eleuthero Root Extract
100 mg KSM66® Ashwagandha Root Extract
Renowned Herbal Adaptogens
DMAE and Vitamins C & B5
Useful in Adrenal Hormone Synthesis/Release
Suggested Use

Adults take 2 tablets 1-2 times a day or as directed by your qualified healthcare professional.

NOTE: Consult a healthcare professional before using this product if you are trying to conceive, pregnant, or lactating, under the age of 18, or have a medical condition; if adverse reactions occur, discontinue use.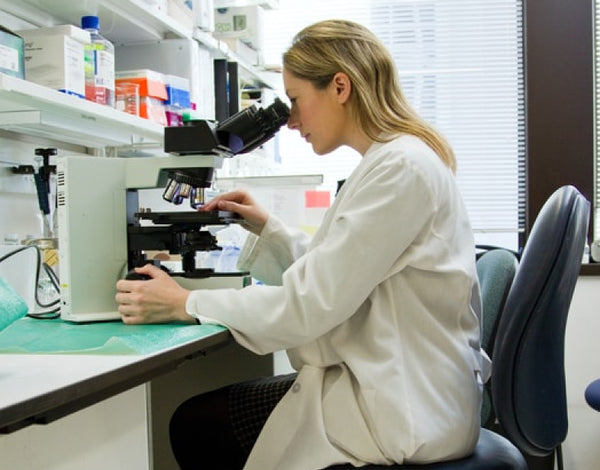 Superior Science
Our staff of scientists leverage expertise from researchers and institutions worldwide who study products and ingredients, and how they work with your body. By supporting scientific research and funding studies, Jarrow Formulas® maintains superior science as the guiding principle in all it does.
Smarter Formulas
Our formulations are carefully crafted and informed by strong scientific research. Jarrow Formulas' products therefore have the potential to support and promote optimal health.
Quality Ingredients
Our customers can be assured of both purity and potency in every Jarrow Formulas product. We evaluate the purity, strength and composition of all ingredients and only work with raw material suppliers that follow the same Current Good Manufacturing Practices (cGMP) we do.
Our Science
Other Products You May Like: