All Guides
d-Biotin Reference Guide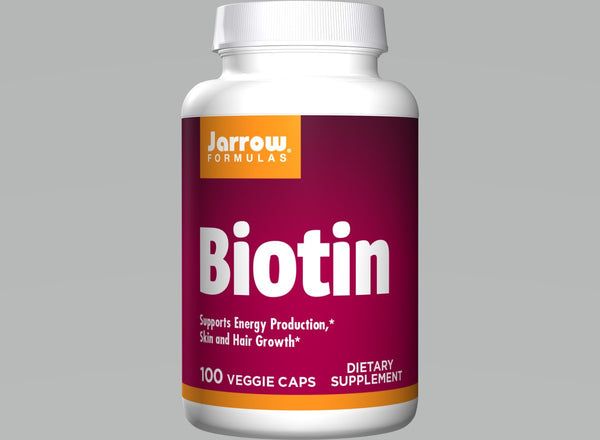 d-Biotin Reference Guide
d-Biotin
Supports Energy Production; Supports Skin & Hair Health* 
d-Biotin is a water-soluble B vitamin typically found in liver, egg yolk, cereals, legumes, and nuts. Biotin is essential for normal skin and hair growth, lipid metabolism, and energy production (ATP).*
Who Can Benefit From this Product?
Those seeking to support energy production and lipid metabolism may benefit from using Jarrow Formulas Biotin.* Those looking to support the health of skin, hair, and nails, may benefit as well.* Those who consume alcohol also may benefit, as alcohol consumption decreases biotin status in the body.* 
Product Highlights
What is Biotin?
Biotin is known by many names, including Cis-hexahydro-2-oxo1H-thieno[3,4-d]-imidazole-4-valeric acid, biotina, Coenzyme R, D-biotin, vitamin B7, vitamin H and W Factor. It is a water-soluble B vitamin typically found in liver, egg yolk, cereals, legumes, and nuts. It is essential for normal skin and hair growth, lipid metabolism, and energy production (ATP). Biotin supplementation is used for preventing and managing biotin deficiency associated with pregnancy, long-term parenteral nutrition, malnutrition, and multiple carboxylase deficiency. Biotin also commonly is taken orally to support healthy hair and nails, and for other purposes.
Biotin for Hair & Nails
Some of the more overt signs of biotin deficiency are hair and skin quality around the eyes, nose and mouth. Less clearly a result of a deficiency state is nail quality. Three small trials have shown that biotin supplementation (2.5 mg/day for up to six months) in women with brittle fingernails leads to significant improvement. The study that used scanning electron microscopy to assess fingernail thickness and splitting found that after biotin supplementation, fingernail thickness increased by 25% and splitting decreased. 
Mechanisms of Action
Biotin-containing enzymes are involved in pyruvate decarboxylase (glycolysis), gluconeogenesis, fatty acid synthesis, propionate metabolism, and the catabolism of leucine in mammals. Biotin deficiency is most common in people with congenital biotinidase deficiency, malabsorption (such as short-gut syndrome), pregnancy, alcoholism, and in people receiving long-term parenteral nutrition. 
Biotin Absorption
Oral biotin is virtually completely absorbed even at high intake levels. About half of the oral intake of biotin is excreted within 24 hours. Biotin is recycled endogenously. 
Safety, Adverse Reactions and Interactions
Biotin is well tolerated. Biotin in an amount of 10 mg per day has been taken without adverse effects. No biotin toxicity has been reported in individuals supplemented with as much as 200 mg orally or 20 mg intravenously per day. Carbamazepine (Carbatrol,Tegretol). Phenobarbital, Phenytoin (Dilantin), Primidone (Mysoline) and a number of other pharmaceuticals can reduce plasma biotin levels.