Yum-Yum Dophilus® Natural Raspberry - 1 Billion CFU - 3 Pack (360 Count)
1 Billion CFU / 360 Chewable Tablets / 6 Months Supply
Jarrow Formulas® Yum-Yum Dophilus® provides 4 clinically documented strains of beneficial bacteria in a yummy chewable tablet. Beneficial intestinal flora can be negatively affected or reduced by a diet that is low in fiber, high in animal protein, the use of medication, travel and stress, etc. The result is dysbiosis (i.e., disruption of the intestinal microflora), which can negatively affect gastrointestinal function and well being.*
The friendly bacteria in Yum-Yum Dophilus® help maintain a balanced intestinal microflora, support immune function and promote health.*
Xylitol is used to enhance the taste and support dental health.*
Sugar-Free. No artificial sweetener, flavor or color. 
Each tablet is individually blister packed for enhanced stability and convenience.
Strains Matter™
Clinically documented Strains Matter™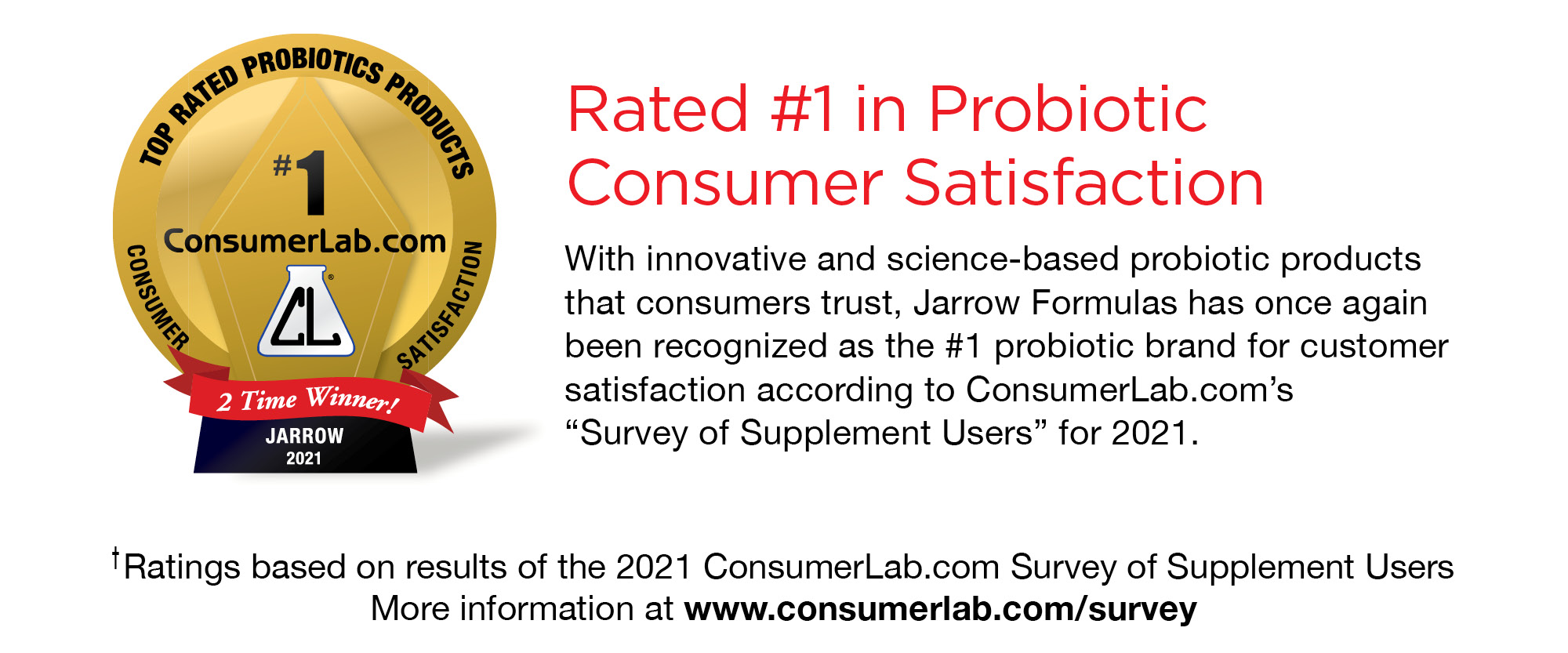 Included with order:
Ships Cold with Ice Packs and Insulation
SUPPLEMENT FACTS
Serving Size: 2 Chewable Tablets
Proprietary Probiotic Blend
Lactobacillus acidophilus La-02 †
Lactiplantibacillus plantarum Lp-01‡ †
Bifidobacterium breve BR-03 †
Bifidobacterium lactis BS-01 †
Inulin-FOS (FructoOligoSaccharides)
† Daily Value (DV) not established.
Other Ingredients: Xylitol, cellulose, stearic acid (vegetable source), natural raspberry flavor, magnesium stearate (vegetable source), glycerin fatty acid esters (vegetable source), beet powder (for color), silicon dioxide, monk fruit extract and citric acid.

No wheat, gluten, soybeans, dairy, egg, fish/shellfish, or peanuts/tree nuts.

‡ Updates based on official taxonomy reclassification.
About Yum-Yum Dophilus® Natural Raspberry - 1 Billion CFU - 3 Pack (360 Count)
Sugar-Free, Chewable Synbiotic (Probiotic Plus Prebiotic) That Contains 4 Clinically Documented Strains of Beneficial Bacteria*
For Intestinal and Immune Health*
Chewable Children's Probiotic
Sugar Free (with Xylitol) to Promote Dental Health*
Natural Raspberry Flavor
Clinically Documented Strains
1 Billion Probiotic Organisms From 4 Beneficial Strains
Blister Packed for Stability & Convenience
For Kids and Adults
Suggested Usage
Chew 2 tablets, during or shortly after a meal. Recommended for children age 2 and above under the supervision of a parent or caregiver. May take up to 4 tablets a day or as directed by your qualified healthcare professional.

NOTE: Consult a healthcare professional before using this product if you are trying to conceive, pregnant, or lactating, under the age of 18, or have a medical condition; if adverse reactions occur, discontinue use.

Live Probiotic Guarantee
When kept under recommended storage conditions, Jarrow® Probiotics are formulated to ensure CFU counts are guaranteed within Best Used Before date.

Keep refrigerated.

Keep out of reach of children.
Superior Science
Our staff of scientists leverage expertise from researchers and institutions worldwide who study products and ingredients, and how they work with your body. By supporting scientific research and funding studies, Jarrow Formulas® maintains superior science as the guiding principle in all it does.
Smarter Formulas
Our formulations are carefully crafted and informed by strong scientific research. Jarrow Formulas' products therefore have the potential to support and promote optimal health.
Quality Ingredients
Our customers can be assured of both purity and potency in every Jarrow Formulas product. We evaluate the purity, strength and composition of all ingredients and only work with raw material suppliers that follow the same Current Good Manufacturing Practices (cGMP) we do.
Our Science
Yum-Yum Dophilus® Natural Raspberry - 1 Billion CFU - 3 Pack (360 Count) pairs well with:
Reviews
Customer Reviews
Write a Review
Ask a Question
I recommend this product
Kids love it, we love it!
This is probably our 10th time purchasing this product. Kids ask for it every night, and we find it helps the one with a sensitive stomach (IBS/lactose sensitivity) greatly!