360 Chewable Tablets / 4 Months Supply
Beneficial bacteria can be depleted by low-fiber diets, high meat diets, antibiotic use, travel and stress. Jarrow Formulas' Prebiotics XOS + α-GOS primarily supports the growth of beneficial bifidobacteria to support a healthy balance of microbes colonizing the gut, which may positively impact digestive and immune health.* PreticX® (XOS: Xylooligosaccharides) has been shown in clinical studies to promote the growth of bifidobacteria.*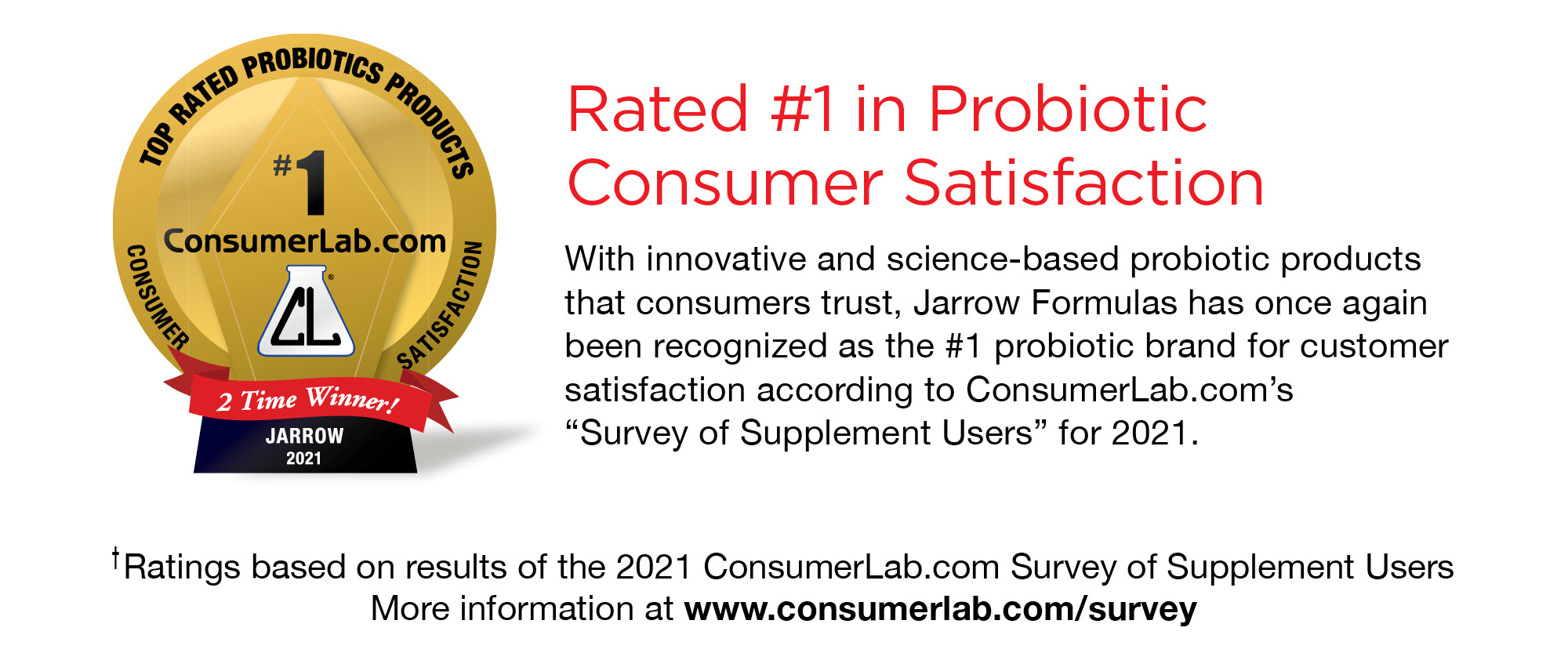 SUPPLEMENT FACTS
Serving Size: 3 Chewable Tablets
Xylooligosaccharides (XOS)
Alpha-Glucooligosaccharides (α-GOS)
† Percent Daily Values (DV) are based on a 2,000 calorie diet.
†† Daily Value (DV) not established.
Other Ingredients: Tapioca starch, cellulose, maltodextrin, xylitol, coconut milk, glyceryl behenate, calcium phosphate, guar gum, natural flavor and silicon dioxide.

Contains: Tree nut (coconut).

No wheat, gluten, soybeans, dairy, egg, fish/shellfish, or peanuts.

PreticX® is a registered trademark of AIDP, Inc.

Suitable for vegetarians/vegans.

Store in a cool, dry place.
About Prebiotic XOS + α-GOS - 4 Pack
Provides Intestinal and Immune Health Benefits by Promoting Selectively Fermented Prebiotics to Support the Growth of Beneficial Bacteria Such as Bifidobacteria and Lactobacilli*
Enriches & Nourishes the Gut Microbiome*
Supports Growth of Beneficial Gut Bacteria*
Easy to Use Chewable Tablets
Works at Both Low and High Levels of Intake
Suggested Use
Chew 3 tablets 1 – 2 times per day or as directed by your qualified healthcare professional. For use by anyone from age 5 and on. For best results, use with a Jarrow Formulas® Probiotic Formula.

Keep out of reach of children.
Superior Science
Our staff of scientists leverage expertise from researchers and institutions worldwide who study products and ingredients, and how they work with your body. By supporting scientific research and funding studies, Jarrow Formulas® maintains superior science as the guiding principle in all it does.
Smarter Formulas
Our formulations are carefully crafted and informed by strong scientific research. Jarrow Formulas' products therefore have the potential to support and promote optimal health.
Quality Ingredients
Our customers can be assured of both purity and potency in every Jarrow Formulas product. We evaluate the purity, strength and composition of all ingredients and only work with raw material suppliers that follow the same Current Good Manufacturing Practices (cGMP) we do.
Our Science
Prebiotic XOS + α-GOS - 4 Pack pairs well with: